ALIMA's medical and nutrition teams are providing life saving health care to displaced people and host communities at five sites in the Maiduguri area and at the University of Maiduguri Teaching Hospital.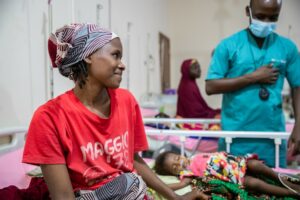 "We get good healthcare here. I have noticed a marked improvement in my daughter's health since I arrived three days ago. I would like the women in my village to know that they can come to this hospital. All treatments are free and the health workers have a good attitude," said Hadiza, mother of three-year-old Halima. Her daughter was admitted to the University of Maiduguri Teaching Hospital because she is suffering from severe acute malnutrition and bronchial pneumonia.
Watch a video of ALIMA's actions to prevent and treat malnutrition in Nigeria:
To learn more, check out our Exposure photo essay with patient and health workers testimonials.
* OCHA, July 2021
** OCHA, July 2021
Cover photograph: © Benita Nnachortam / ALIMA
These activities are made possible thanks to the generous support of ECHO (The Directorate-General for European Civil Protection and Humanitarian Aid Operations) and USAID (The United States Agency for International Development) and the American people.