COVID-19 is the disease caused by a coronavirus, SARS-CoV-2. Out of the patients who develop symptoms, most (about 80%) recover without the need for hospitalization. About 15% of patients become critically ill and require oxygen therapy, and 5% of infections are critical and require intensive care. (WHO 2022 data)
Coronavirus disease (COVID-19) is an infectious disease caused by SARS-CoV-2 virus that first occurred in December 2019 in central China. Most people infected with the virus have mild-to-moderate respiratory illness and recover without needing special treatment. However, others become severely ill and require medical attention. The elderly and persons with underlying medical conditions such as cardiovascular disease, diabetes, chronic respiratory disease, or cancer, are more likely to develop a severe form of COVID-19. Between March 2020 and March 2022, 6 million people died worldwide.
47
countries infected in Africa
8 million
cumulative cases in Africa
170,000
deaths on the African continent
Since March 2020, ALIMA's field teams (doctors, , health  workers, and national and international researchers) have been working together  with African and international national health authorities to respond to the COVID-19 crisis. 
Initially, ALIMA provided care for severe hospitalized cases, strengthened infection prevention and control measures, trained health workers on the diagnosis and management of COVID-19 cases, and provided medical supplies and cold chain maintenance equipment. 
Next,   following the arrival of  COVID-19  vaccines, ALIMA quickly collaborated with health authorities in eight of its intervention countries to implement COVID-19 vaccination campaigns targeting the most vulnerable people and communities. Thus, despite the many challenges in Mali, Niger, Mauritania, Guinea, Nigeria, Central African Republic, Chad and the Democratic Republic of Congo, our teams have been able to distribute nearly two million doses in 14 months.
Prevention
Implementing infection prevention and control (IPC) measures to protect our teams and patients.
Vaccination
Since June 2021, ALIMA has been supporting Ministries of Health in 8 of its countries of intervention in the implementation of their vaccination campaigns targeting the most vulnerable people.
Medical care
ALIMA has set up a rapid response mechanism that consists of providing emergency human resources and medical inputs to support the teams present in the field in the management of severe cases.
Training
ALIMA has trained health workers in the diagnosis and management of COVID-19 cases.
Clinical research
ALIMA is a member of the ANTICOV consortium which is conducting the largest study in Africa to test multiple early treatment options for COVID-19.
PCover Picture © John Wessels / ALIMA
Get involved with ALIMA !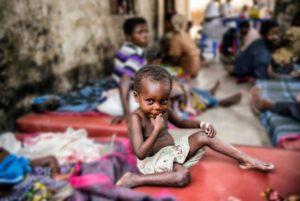 Help us save more lives by donating
Become a member of ALIMA and take part in our projects
Join us to transform humanitarian medicine!