Research and innovation are at the heart of ALIMA's work. Our goal is to propose innovative solutions to meet the challenges of humanitarian medicine in the 21st century.
To achieve this, ALIMA's projects adapt medical research to the context of humanitarian operations.
In Africa, 60% of deaths are linked to infectious diseases, most of these deaths are preventable.

Only 2.6% of research projects are conducted on the African continent.

Current medical research is not adapted to the challenges of humanitarian aid.
ALIMA's model of research and innovation means we are able to utilize research to provide effective and contextually appropropriate medical care within the regions where we work.
30
research projects conducted by ALIMA since its creation in 2009
20 %
of ALIMA's work is devoted to medical research ranging from infectious diseases to the treatment of malnutrition
15
current research projects with local partners addressing malnutrition, disease prevention and vaccines among others
CORAL, a collaborative research platform
In 2016, ALIMA and its partners created a unique model of research dedicated to humanitarian medical research, via an alliance between researchers, health workers and NGOs in Africa and Europe.
Thus, ALIMA and the INSERM1219 IDLIC (Infectious Diseases in Lower-Income Countries) team built the CORAL (Clinical and Operational Research Alliance) platform, to combat existing emerging health threats in Africa.
The platform integrates several teams from Inserm (French National Institute of Health and Medical Research) and PAC-CI, a research site based in Ivory Coast, which is part of the French National Agency for Research on AIDS and Hepatitis (ANRS).
The CORAL platform offers innovative solutions to improve the effectiveness of humanitarian medical interventions and relies on Northern-Southern countries partnership, with all projects led by teams from developing countries.
Research for Better Management of Malnutrition
In 2016 and 2018, the OptiMA study (Optimising the Treatment of Malnutrition) demonstrated the ability to improve the care of malnourished children by combining the MUAC strategy (mothers measuring the Mid-Upper Arm Circumference r of children) for early referral of sick children and the simplification of their treatment. ALIMA is also conducting OptiMA study in Niger, Mali and the Democratic Republic of the Congo. Read more
Clinical Research to Better Treat and Prevent Viral Hemorrhagic Fever
Recently, ALIMA has carried out research projects in health emergencies, particularly during outbreaks of viral haemorrhagic fevers.
ALIMA implemented the PREVAC project, a vaccine trial comparing the effectiveness of several Ebola vaccine strategies. Read more
In Nigeria in 2018, to fight Lassa fever, ALIMA established a partnership with Inserm through the ALERRT consortium (The African coaLition for Epidemic Research, Response and Training) and in coordination with the Nigeria Centre for Disease Control and the World Health Organization. A research team is currently conducting the LASCOPE project, which aims to better understand and describe the disease, while working on the evaluation of therapeutic strategies. Read more
In 2019, as part of the response to the Ebola outbreak in the Democratic Republic of the Congo, ALIMA and its research partners participated in a randomized controlled clinical trial comparing experimental treatments for

the Ebola Virus

. The objective of the trial was to identify the most effective drug among four promising molecules. Two of them were found to be effective in reducing the initial mortality rate from 70% to 30%: Ebola is no longer a fatal disease
ALIMA is currently carrying out 15 innovative research projects to find solutions that transform humanitarian medicine.
* Cover picture © Etinosa Yvonne / ALIMA
Thank you to our partners !
The Ministries of Health in our countries of intervention

Inserm –

French National Institute of Health and Medical Research

PAC-CI – ANRS Program Côte d'Ivoire

NIH – United States National Institutes of Health

Yale School of Public Health

Oxford University

ISPED – Institute of Public Health, Epidemiology and Development

EDCTP – Europe-Developing Countries Clinical Trials Partnership

ALERRT – African Coalition for Training and Response in Epidemic Research

ELRHA  

The Innocent Foundation 

Reacting INSERM

The Mitchell Group (TMG) 
Get involved with ALIMA !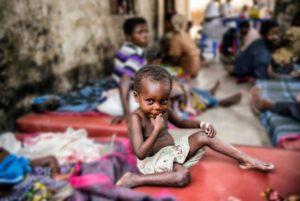 Help us save more lives by donating
Become a member of ALIMA and take part in our projects
Join us to transform humanitarian medicine!