44 million inhabitants prior to the conflict
17.7 million people in need
5.4 million internally displaced persons
20 hospitals and health centers supported with medical equipment and medicines
7,000 specialist doctor consultations via the ALIMA mobile clinic in more than 35 villages between Mykolaiv and Kherson
700 persons provided with mental health support
Training and capacity-building
Conflicts and population displacement
Ukraine has been under a large-scale attack from Russian forces since February 24, 2022 and millions of Ukrainians are in need of humanitarian assistance. The health system is in dire straits with damaged facilities and staff shortages. There are also shortages of medical supplies and life-saving drugs, not just for the needs of the war-wounded, but also for the critically-ill, or persons with chronic diseases.
In areas near the war's frontline, persons who have not been able to flee – often the most vulnerable, such as the elderly or ill – are more isolated than ever. They lack access to health care, particularly treatment for non-communicable diseases (such as cardiovascular diseases, diabetes, cancer, asthma). Cases of sexual violence have been increasingly reported since the conflict began. Given this context, there is a strong need for mental health support for local communities.
Present in the country since April 2022, with a coordination office in Odessa, ALIMA's activities are currently centered in the the Mykolaiv and Kherson Oblasts –  regions near the frontline in southern Ukraine.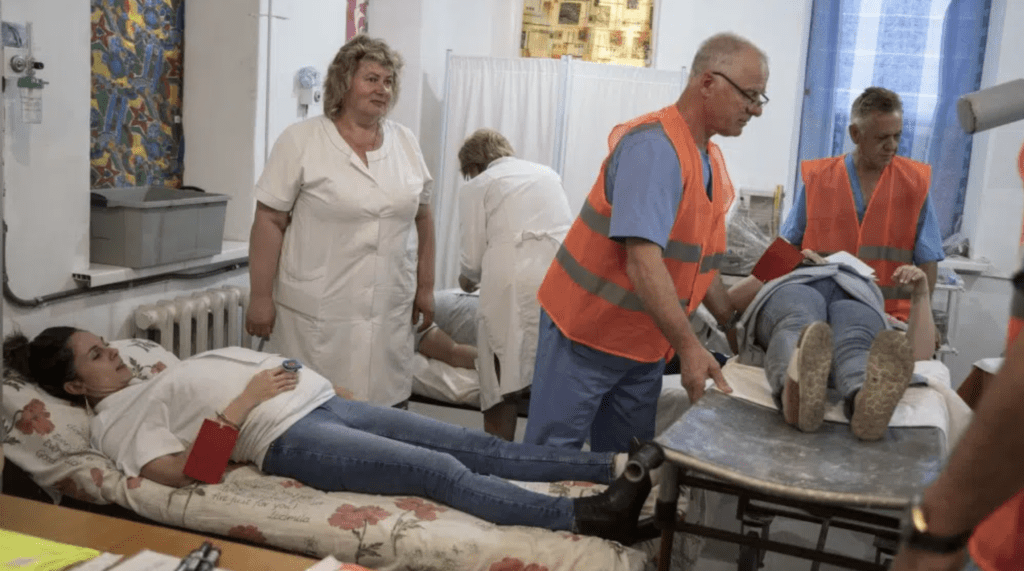 ALIMA's Impact – Our fieldwork
True to the ALIMA model, all our activities in Ukraine are implemented hand-in-hand with local authorities, health workers, and volunteer networks, enabling us to rapidly pinpoint medical structures in need of support, or reach persons in isolated areas requiring medical assistance.
Reinforcing war-damaged local health structures
Ukraininan health care workers have to cope with hospitals damaged by bombing. ALIMA supports 20 hospitals  and health centers through the delivery of emergency surgical kits, medical equipment and drugs in collaboration with the Ukrainian Ministry of Health and local volunteers. In some of the main hospitals, ALIMA has also rehabilitated operating rooms and other key areas, such as converting a waiting room into a mass casualty triage center. In those structures, ALIMA also strengthened the capacity of hospital staff to respond to the needs of the frontline, ALIMA conducted training sessions such as mass casualties and burn patient management to prepare for a massive influx of war-wounded.
Organizing mobile clinics to take medical specialists to persons in need
Previously, persons in need of medical assistance could travel more freely to Mykolaiv for treatment, but now many are afraid to do so, or to leave their families behind. ALIMA organizes mobile clinics in more than 35 villages between Mykolaiv and Kherson to facilitate access to health care. These mobile clinics take specialists (gynecologists, ophthalmologists, neurologists, cardiologists, psychologists, etc.) directly to people in the small villages and towns near the front line.
Providing psychological support to local communities
To help local communities deal with the trauma of war and displacement, ALIMA provides psychological care through individual and group sessions, or referral to psychiatric hospitals. ALIMA trains frontline workers (health workers, volunteers, social workers, teachers, other NGO workers, etc.) on providing psychological first aid. ALIMA also supported art therapy activities for displaced children and young adolescents and their families from villages near the front line. 
Supporting critical surgeries in hospitals
One of the main hospitals in the area, the Berezanka hospital, despite being quite well-equipped, had been forced to cancel all surgeries since the beginning of the war due to the absence of an anesthesiologist. ALIMA enabled the hospital to perform surgeries by providing an ALIMA staff anesthesiologist to the hospital. This has enabled over 90 surgeries in the hospital so far.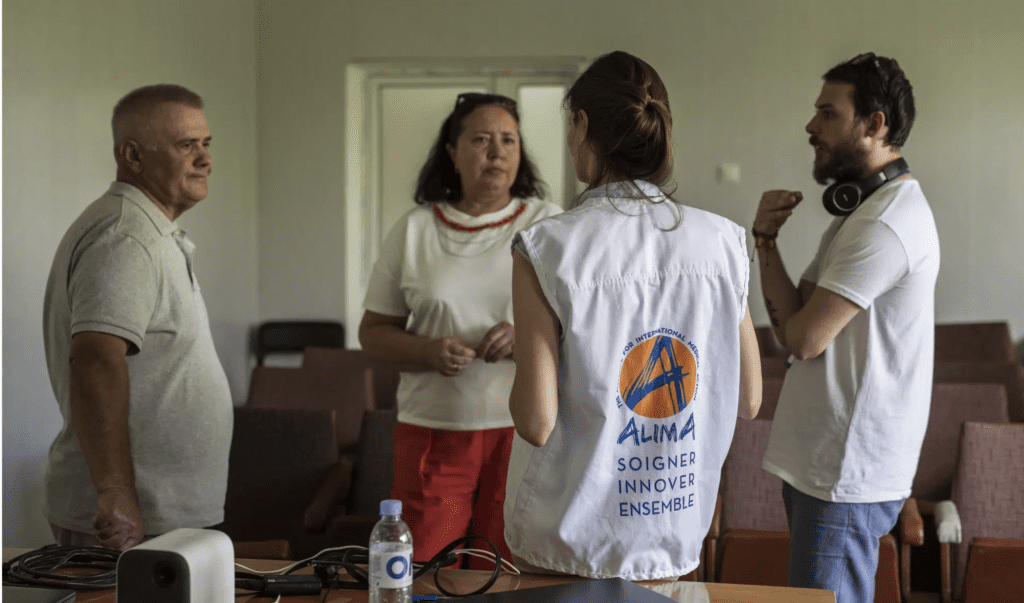 Raising awareness on sexual and gender-based violence
ALIMA organizes sessions raising awareness on sexual violence and sexual assault first aid for health professionals in the Mykolaiv region. The sessions aim to educate first responders and health practitioners (such as family doctors and nurses from primary health centers) to ensure that victims of sexual violence have access to additional support or adapted services for reproductive health.
© Cover picture : Myriam Renaud / ALIMA