Ensuring Access to oxygen
Securing the supply of medical oxygen and putting in place the appropriate infrastructure so that countries can rapidly expand the use of oxygen during the COVID-19 pandemic, and beyond, can save lives.
Pneumonia is the biggest killer infection of adults and children worldwide – killing 2.5 million people, including 672,000 children under five in 2019 (source: Every Breath Counts Coalition). Oxygen therapy is an essential response for the clinical management of patients in respiratory distress. Yet, many people in Africa lack access to  oxygen due to limited supply and weak healthcare systems. This chronic problem has serious consequences. Decades of underinvestment in the prevention, diagnosis, and treatment of respiratory diseases have left many national health systems lacking equipment, oxygen, and trained human resources. 
children under the age of five are expected to die from pneumonia between 2020 and 2030 if current trends continue (UNICEF 2020)
a person dies worldwide from pneumonia. Yet it remains a neglected disease. (Every Breath Counts Coalition)
under the age of five suffering from acute respiratory infections will be treated by our teams in 2021
The "Breath for All" project, made possible through financial support from Unitaid, aims to strengthen access to oxygen at all three levels of the health pyramid in four sub-Saharan African countries – Sudan, Burkina Faso, Mali, and Guinea – with contextually appropriate and sustainable solutions to reduce COVID-19 deaths. The project aims to increase oxygen production and decentralize its sources so that every patient suffering from respiratory distress can be properly managed.
Specifically, ALIMA supports patient care by providing equipment, oxygen, human resources, and technical expertise to train health care personnel in oxygen therapy, including equipment maintenance and supply chain management.
The Breath for All project proposes activities in 5 strategic areas:
Site assessment (oxygen supply capacity, sources of energy… )
Supply of material, oxygen generator type, and repair or rehabilitation of equipment
Training in curative and preventive maintenance
Training in the proper use of oxygen
Supply of medical devices, equipment, drugs and medical equipment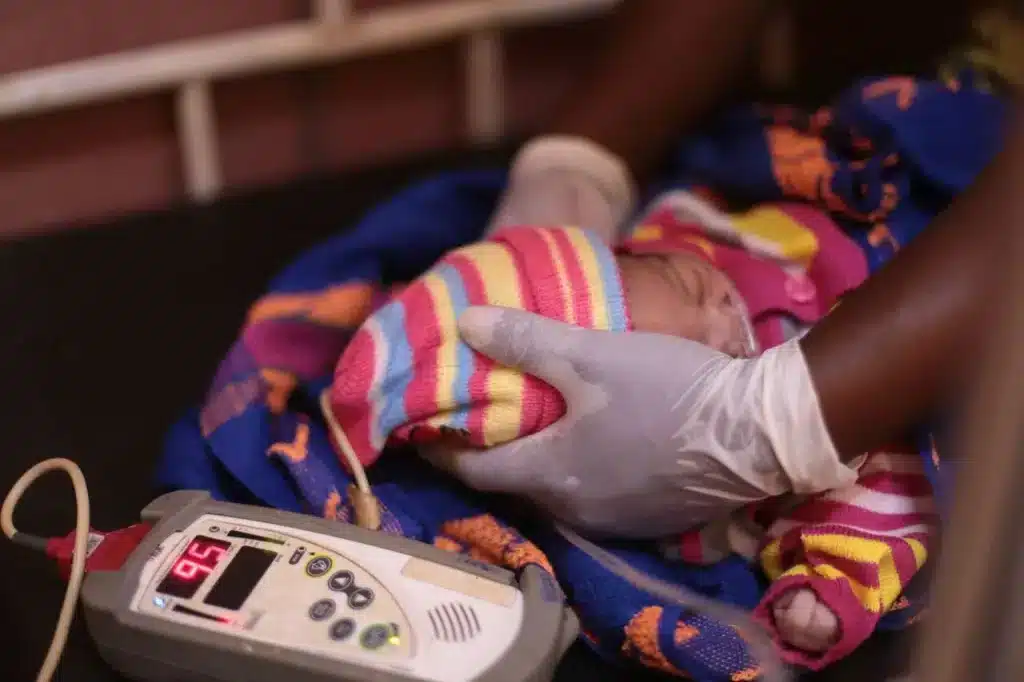 Rehabilitation
In some of the large hospitals where we intervene, oxygen production plants that have broken down are rehabilitated with  the expertise of our partner Build Health International, so that patients can be quickly cared for on the spot.
Technical support and training
 In hospitals in rural areas, access to oxygen is made sustainable and autonomous through the installation of solar panels  with the technical support of Electricians Without Borders, as well as  training of maintenance technicians. This system makes oxygen available even in remote areas.
In addition, oxygen sources are decentralized in the form of mobile stations at the health center level in remote areas, so that each patient in respiratory distress can be transported to the hospital with a supply of oxygen during the journey.