The WHO estimates that 50 million children under the age of five suffer from acute malnutrition, 17 million of whom suffer from severe acute malnutrition, its most dangerous form. ALIMA is mobilizing resources to invest in solutions to treat ALL malnourished children.
According to the World Health Organization, malnutrition plays a role in the death of one out of every two children in the world, far more than any other infectious disease. For those who survive, malnutrition can leave lasting scars, chronic vulnerability to disease and intellectual impairment. Malnutrition is one of the greatest threats to the survival and development of children. Yet it is easily treatable and preventable.
Although effective treatment exists, 80% of malnourished children do not have access to it. Even with the use of ready-to-use therapeutic foods (nutritional paste administered to malnourished children between six and 59 months of age), access to treatment is still a problem. ALIMA's work aims to reach more children.
633 992
mothers trained by ALIMA to screen their children for malnutrition in 2019
155 000
children with severe acute malnutrition treated
by ALIMA in 2019
15
nutritional health research programs developed
by ALIMA since 2009
ALIMA began treating malnutrition in Zinder, Niger in 2009, when the country was facing a severe nutritional crisis. The first ALIMA project was born in Zinder where we took care of 4,500 severely malnourished children, in partnership with the Nigerian NGO BEFEN (Bien Être de la Femme et de l'Enfant au Niger / Well-being of Women and Children in Niger).
Since then, each year, ALIMA cares for more than 100,000 children suffering from severe acute malnutrition in our 11 countries of intervention. Within 10 years, we have developed an effective approach to fight the scourge of malnutrition and save lives.
In addition to curative care for malnourished children, ALIMA has developed prevention and research programs to improve techniques and protocols for the treatment of malnutrition. 
Our primary objective is to simplify the current therapeutic approach so that all acutely malnourished children, regardless of severity, are treated in a single program.
* Cover picture © Sylvain Cherkaoui / ALIMA
Our nutritional health Programs
Optima, Optimizing the Treatment of Malnutrition
1,000 Days: Rethinking Maternal-Child Care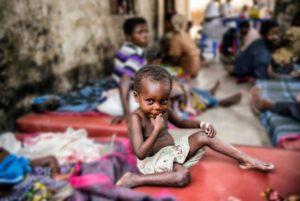 Help us save more lives by donating
Become a member of ALIMA and take part in our projects
Join us to transform humanitarian medicine!