MATERNAL AND CHILD HEALTH
With the goal of reducing maternal, infant and child mortality in areas affected by conflict or humanitarian emergencies, ALIMA provides care to women throughout their pregnancy, with pre- and post-natal consultations, and assists them during childbirth. This care extends to children, up until the age of five, including pediatric consultations, nutritional care and providing routine vaccinations.
Sub-Saharan African countries suffer from some of the highest rates of maternal and child mortality in the world. In many of the areas where ALIMA works, these rates exceed critical thresholds. According to The World Bank, one in 37 women die due to pregnancy-related complications in sub-Saharan Africa. This is compared to one in 7,800 women living in countries with more developed health systems.
In ALIMA's countries of intervention, millions of births take place without medical assistance or adequate equipment. In order to avoid traveling long distances to a health center or due to lack of financial resources, some women choose to give birth at home. When complications arise, it is often too late.
Additionally, despite a 50% decrease in child mortality rates between 1990 and 2018, The World Bank says that some 15,000 children under the age of five continue to die each day. The highest mortality rate is seen in sub-Saharan Africa, where one in every 13 children don't reach their fifth birthday. Malnutrition rates also remain alarmingly high in all the countries where ALIMA works. In 2020, Unicef estimated that more than 15 million children under the age of five suffered from acute malnutrition in West and Central Africa.
If women and their children have access to free, quality health care, these deaths could be prevented. There is an urgent need for action, and this is why ALIMA developed maternal and child health programs, for the most vulnerable women and children.
91,974
women benefited from prenatal consultations in 2020
44,448
births assisted by ALIMA in 2020
654,745
pediatric consultations performed in 2020
ALIMA's medical teams, in collaboration with Ministries of Health, and local and international partners, support health centers and hospitals to provide quality maternal and child health care. Among these care services, ALIMA has put in place mobile clinics to reach and care for the most-isolated communities. ALIMA's teams also support health centers and hospitals weakened by emergencies, including in areas affected by disease outbreaks, and those facing insecurity and population displacements.
ALIMA assists with simple and complicated deliveries, including cesarean sections, and health care staff provide free pre- and post-natal consultations.
For example, ALIMA midwives offer family planning services and conduct home visits to provide follow-up care for new mothers and their babies. In the city of Boda, in the Central African Republic, where ALIMA created a maternity school, the technical skills of midwives and traditional birthing assistants are reinforced.
Each year, as part of ALIMA's pediatric care programs, hundreds of thousands of children are cared for as part of the fight against malnutrition and other diseases, such as malaria, one of the leading causes of childhood death in Africa.
Cover picture © Jennifer Lazuta / ALIMA
See the story of Nadège Karo, a midwife in the Central African Republic
Our maternal health Programs
1,000 Days: Rethinking Maternal-Child Care
Get involved with ALIMA !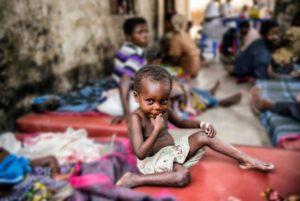 Help us save more lives by donating
Become a member of ALIMA and take part in our projects
Join us to transform humanitarian medicine!