17.2 million inhabitants¹
5.1 million people affected by food insecurity and malnutrition²
15 regions where the emergency threshold for severe acute malnutrition in children under 5 years have been exceeded²
26,187 children under the age of 5 treated for severe acute malnutrition
41,480 pediatric consultations
Outbreak response
Conflicts and population displacement
Maternal health
Nutrition
Research and innovation
Chad, in particular in the Lake region, has suffered from decades of internal conflict and persistent insecurity related to the Boko Haram insurgency. Chad is landlocked and shares borders with many countries. Influxes of refugees from neighboring Cameroon, Nigeria, Niger, Libya, South Sudan and the Central African Republic amplify humanitarian needs in the territory. 
Each year, more than five million people are affected by food insecurity and malnutrition across the 15 regions of the country. Chad has the sixth highest child mortality rate in the world and one in seven children die before reaching the age of five.
Each year, between June and October, Chad's capital N'Djamena is particularly affected by recurrent peaks of malnutrition. In 2020, bed occupancy rates within the Therapeutic Nutrition Unit of the Chad-China Friendship Hospital exceeded 125% during this period, for a capacity of 80 beds.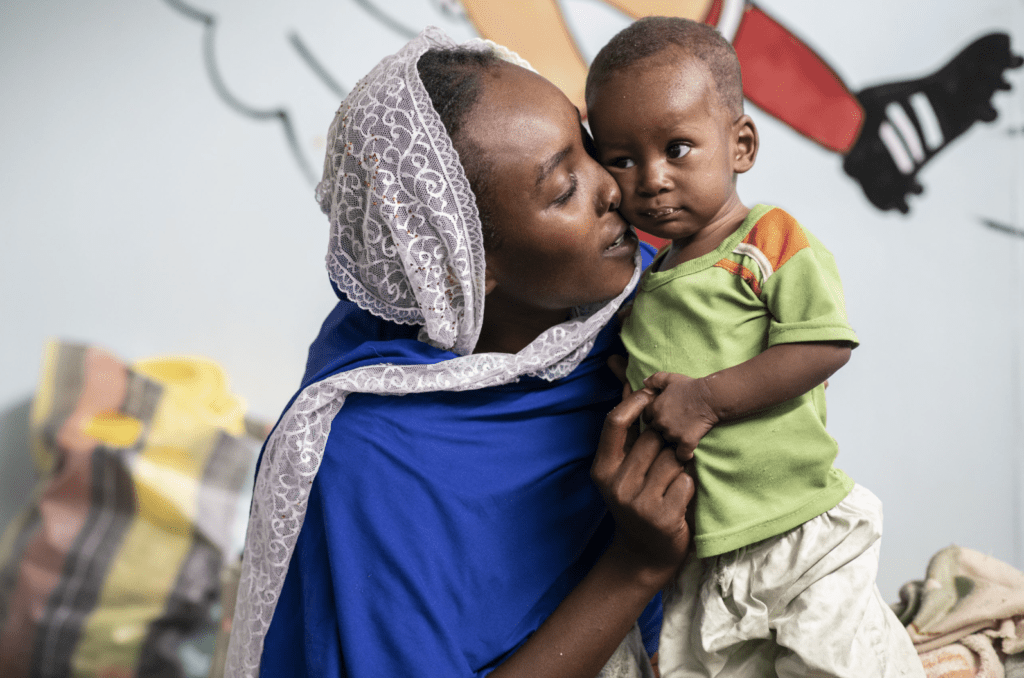 ALIMA's Impact – Our fieldwork
Support to local health structures
Since 2012, ALIMA has worked in close collaboration with Alerte Santé, a Chadian medical NGO which carries out actions to improve access to health care and strengthen existing medical structures.
In 2020, in the country's capital N'Djamena, our teams deployed their efforts in the fight against acute malnutrition. In the districts of Ngouri and Liwa in the Lake Chad region, our objective was to improve access to primary and secondary health care.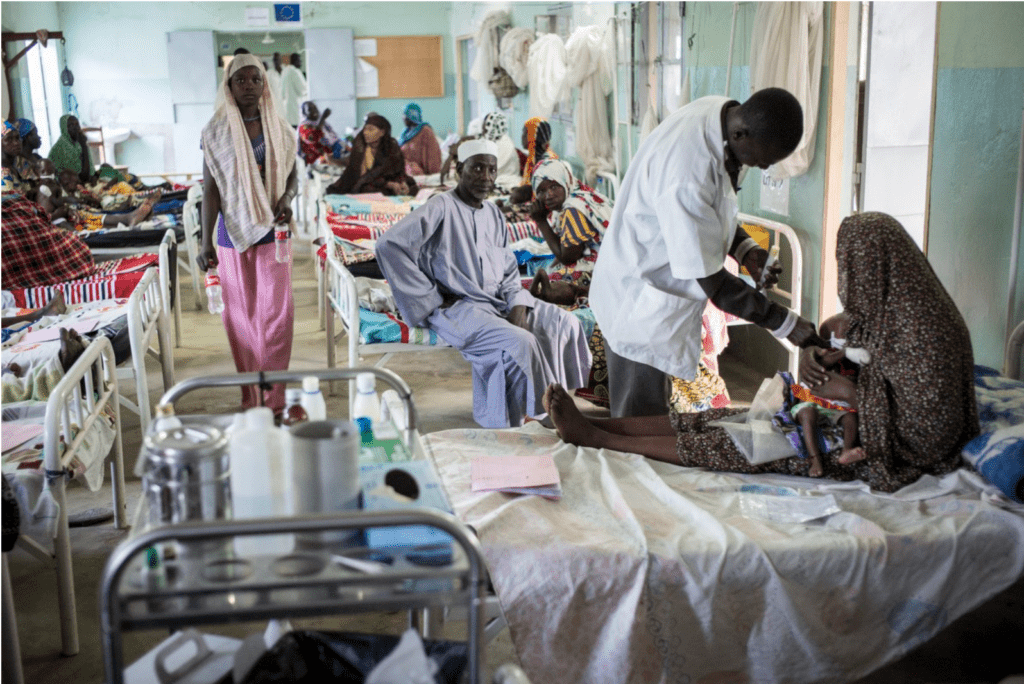 Medical and nutritional care of children under five
In 2012, in collaboration with Alerte Santé, ALIMA started supporting children under the age of five in the district of Ngouri in the Lake Chad region with a medical and nutritional treatment program. Then another project for the treatment of severe acute malnutrition was launched in 2013 in the urban area of N'Djamena.
Thanks to this initiative, children can be hospitalized and treated all year round against malnutrition and other childhood illnesses, in the nutrition services of the Chad-China Friendship Hospital and the Mother and Child Hospital. 
Through its operations in N'Djamena, ALIMA can meet the significant needs for the treatment of severe acute malnutrition in the capital, and launch awareness-raising and advocacy actions with health authorities, governments and other humanitarian actors.
In addition, ALIMA initiated in 2017 the "1,000 Days" program to provide a set of comprehensive care in six health areas of Ngouri. This program provides preventive and curative care to the mother-child couple from pregnancy until the age of two. It has ensured that children under the age of five have access to good nutrition, free health care and routine vaccinations needed during the first 1,000 days of life.
In N'Djamena, in partnership with the Ministry of Health and within the framework of the Therapeutic Nutritional Unit school, we trained 72 Chadian health professionals to care for malnutrition with complications; including 20 doctors, 27 state-registered nurses, 16 health technicians, 5 nutritionists, 3 state-registered midwives and 1 master's graduate in pediatrics. In 2020, we admitted 24,717 children aged 6-59 months suffering from severe acute malnutrition to our therapeutic nutrition program.
In Liwa, 1,470 children under the age of five were treated for severe acute malnutrition, including 102 who were admitted to hospital. In addition, ALIMA provided free health care to women through prenatal consultations, delivery assistance and post-natal care. 2,065 pregnant women benefitted from prenatal consultations, and 64 had assisted deliveries. 1,984 women were screened for HIV* and 620 received post-natal counseling.
Finally, ALIMA set up triage and isolation areas at healthcare facilities, in response to the COVID-19 pandemic. Additionally, between June and December, our teams sensitized nearly 380,000 people to combat misinformation and rumors related to the pandemic.
* Cover picture © Adrienne Surprenant / ALIMA
¹ World bank 2020
² OCHA 2021